The Tea Master and the Detective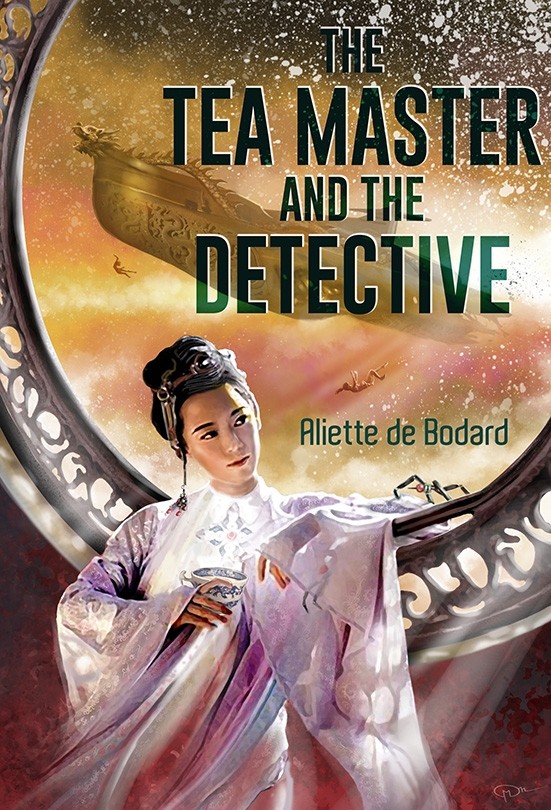 (art: Maurizio Manzieri)
Now in stock and shipping from the Subterranean warehouses!
This is my "Xuya meets Sherlock Holmes" book: in a galactic empire inspired by Vietnamese culture, a detective and a mindship must team up to solve a mystery. Very loosely inspired by A Study in Scarlet, if Holmes were an eccentric scholar, and Watson a grumpy discharged war mindship.
Here's the summary:
A new novella set in the award-winning, critically-acclaimed Xuya universe…
Welcome to the Scattered Pearls Belt, a collection of ring habitats and orbitals ruled by exiled human scholars and powerful families, and held together by living mindships who carry people and freight between the stars. In this fluid society, human and mindship avatars mingle in corridors and in function rooms, and physical and virtual realities overlap, the appareance of environments easily modified and adapted to interlocutors or current mood.
A transport ship discharged from military service after a traumatic injury, The Shadow's Child now ekes out a precarious living as a brewer of mind-altering drugs for the comfort of space-travellers. Meanwhile, abrasive and eccentric scholar Long Chau wants to find a corpse for a scientific study. When Long Chau walks into her office, The Shadow's Child expects an unpleasant but easy assignment. When the corpse turns out to have been murdered, Long Chau feels compelled to investigate, dragging The Shadow's Child with her.
As they dig deep into the victim's past, The Shadow's Child realises that the investigation points to Long Chau's own murky past–and, ultimately, to the dark and unbearable void that lies between the stars…
Available now as a lovely signed hardbound edition: it's a limited edition and I don't know how long it'll last (my last limited edition sold out its run rather fast). You can hop on to the Subterranean Press website and get your own copy (if not in the US, do try amazon which will be more affordable for P&P).
Q: What about ebooks?
A: There will be a North American ebook edition from Subterranean. Outside of North America we're looking into it. Stay tuned for more news.
Buy Now
What people are saying:
The Tea Master and the Detective is the Sherlock Holmes retelling I always wanted and now I have it. And I want so much more of it.
A terrific piece of writing, taking the sentient community of ships from Ian Bank's Culture series, the glittering belt of space habitats from Alastair Reynolds' Prefect novels, and adding in a compelling pair as the title characters.
"This slim volume packs a visceral punch. Absorbing prose takes the reader in the dark, frigid space between the stars, where ships can fail, physically and emotionally, as well as people. (…) an imaginative read.
Library Journal (starred review)
De Bodard constructs a convincingly gritty setting and a pair of unique characters with provocative histories and compelling motivations. The story works as well as both science fiction and murder mystery, exploring a future where pride, guilt, and mercy are not solely the province of humans.
Ingenious… As a classical blend of far-future SF and traditional murder mystery, The Tea Master and the Detective should satisfy readers unfamiliar with the Xuya universe, but at the same time it's an intriguing introduction to that universe, much of which seems to lie just outside the borders of this entertaining tale.
Gary K Wolfe, Locus
It becomes clear early on that The Tea Master and the Detective is strongly influenced by, if not directly based upon, the Sherlock Holmes and Dr. Watson stories of Arthur Conan Doyle. It's measured, almost stately, up until the conclusion, where the tension explodes into high gear. It preserves the empathy and the intensity of the original Sherlockian stories, while being told in de Bodard's cut-glass prose and inimitable modern style. This is a really satisfying story, deeply invested in choosing to do the right thing – and in the importance of kindness. I strongly recommend it.
This book shows sharp, intelligent dialogue with wildly peculiar worlds and spaces. The elegant weaving of narrative is what we've come to expect from de Bodard's unique style. This is the opposite of a closed-room mystery, an open-space mystery which pushes the boundaries of A.I-as-person and genius-as-misanthropic-detective. Deeply affecting and always entertaining, The Tea Master and the Detective should be your next read.
Tade Thompson, author of THE MURDERS OF MOLLY SOUTHBOURNE
The Tea Master is an astonishing Holmesian mystery, in which Holmes is a woman and Watson is a spaceship. It is everything I wanted it to be. Tea, space, and mysteries within mysteries.
In Aliette de Bodard's excellent, far-seeing The Tea Master and The Detective, an unlikely pair comes together to solve a mystery in the void and to face their pasts. This philosophical thriller is beautifully steeped in de Bodard's Xuya universe. For readers who are familiar with her mindships, this novella will be a welcome addition. For readers who may be new to Xuya, The Tea Master is an excellent entry point. The pairing of brilliant-but-hobbled detective Long Chau with the perceptive-but-wounded mindship The Shadow's Child is one of those matches that creates enough friction on the page to make sparks. Set against a background of dramatic family politics, teas, and high-tech bots, The Tea Master and The Detective is a distinct pleasure for discerning readers.
Fran Wilde, Andre Norton Award-winning, Nebula- and Hugo-nominated author of The Bone Universe series and The Jewel & Her Lapidary
It's difficult to know where to start with the reasons to read The Tea Master and the Detective, there is such an embarrassment of riches. The world, the situation, the delicious idea of a ship playing a particularly intelligent and suspicious Watson to a very secretive female Holmes, the prose that glitters with imagery without once becoming overbearing. Briefly, it's de Bodard firing on all cylinders, and that should be enough for anyone.
Jonathan L Howard,Author of Johannes Cabal the Necromancer and Carter & Lovecraft