Seven of Infinities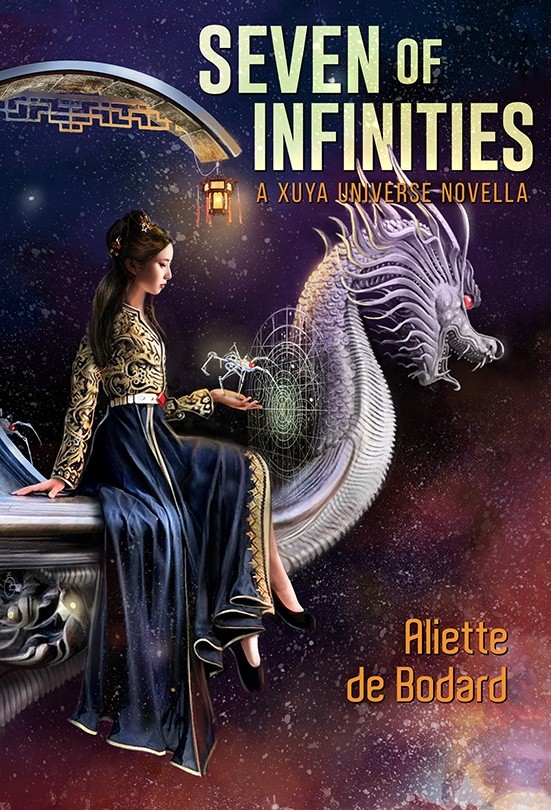 Coming in October from Subterranean Press, the new Xuya book!
One disillusioned sentient spaceship, master thief and master of disguises…
One poor and principled scholar, caught in a web of murder and greed…
They're attracted to each other, but it's fine: they've got it totally under control! #famousLastWords
A new Xuya book is coming out in October from Subterranean, with cover by Maurizio Manzieri–an f/f murder & heist & romance with two Vietnamese main characters. Get your copy now!
Preorder Now
All right, all right, there's official cover copy, too:
Dust jacket illustration by Maurizio Manzieri.
Aliette de Bodard follows up her award-winning Xuya universe novella, The Tea Master and the Detective with Seven of Infinities, an even longer foray into her singular creation.
About the Book:
Vân is a scholar from a poor background, eking out a living in the orbitals of the Scattered Pearls Belt as a tutor to a rich family, while hiding the illegal artificial mem-implant she manufactured as a student.
Sunless Woods is a mindship—and not just any mindship, but a notorious thief and a master of disguise. She's come to the Belt to retire, but is drawn to Vân's resolute integrity.
When a mysterious corpse is found in the quarters of Vân's student, Vân and Sunless Woodsfind themselves following a trail of greed and murder that will lead them from teahouses and ascetic havens to the wreck of a mindship–and to the devastating secrets they've kept from each other.
Limited: 1500 signed numbered hardcover copies
From Kate Elliott, author of Unconquerable Sun and Cold Magic:
"A magnificent sf mystery, nuanced, intense, and romantic, with a complex, clever plot nested inside de Bodard's rich, evocative, and vivid Xuya universe."
To answer questions: right now this is just the print version. I haven't had official information about an ebook version, but I will update when I do. There is, alas, no UK edition, but booksellers in the UK can order it for you (Portal Bookshop, notably).
Preorder Now