Awards consideration/recommendation post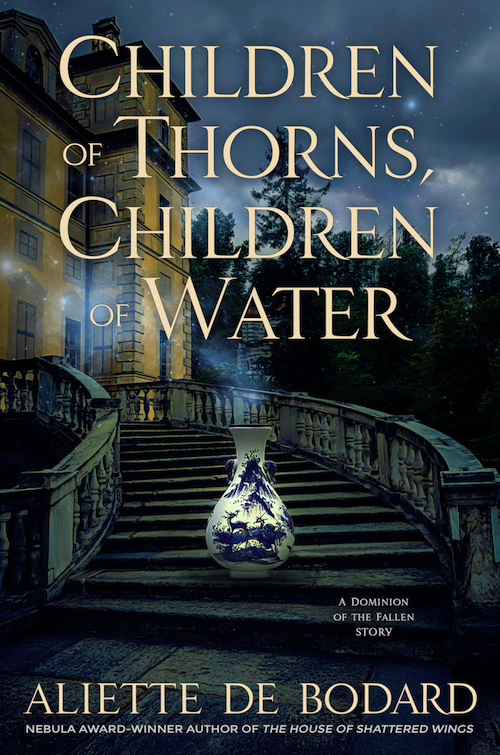 Belatedly posting this because it's been a busy year, but here goes…
For your consideration
In 2017 I published a bunch of things, but here's one I was particularly happy with: "Children of Thorns, Children of Water" is basically my homage to the Great Bake Off. With dragons in human form, a Gothic devastated Paris, and creepier magic than my main characters had originally bargained for…
It's on the Locus 2017 Recommended Reading List, which means I'm not the only one thinking it's decent 🙂
You can read it online at Uncanny Magazine (it's listed as a reprint in the July 2017 issue, but the original publication date was April 2017, which makes it eligible for awards! The original publication was as a pre-order reward for my novel The House of Binding Thorns: it's a standalone set in the universe, though you'll get some Easter eggs if you've read the books.).
And now for the stories & things from other people I absolutely loved this year:
Short story
Fran Wilde's "Clearly Lettered in a Mostly Steady Hand" is an amazing gut-punch of a read–about the people we see and the ones we don't, and how quick we are to deny people their humanity.
Elaine Cuyegkeng's "House that Creaks" is the sort of horror story that just sticks in the mind long after reading it–about a haunted house and how it became that way, and political dissidents, and the force of memory and sorrow and anger.
ETA: oops, this is from 2016!
Nghi Vo's 
"Twelve Pictures from a Second World War"
manages to use its very brief amount of words to picture something haunting with sense of loss–and to show us a side of WWII in non-Western countries that often gets set aside in SFF.
Novella
Rose Lemberg's amazing novella,
"A Portrait of the Desert in Personages of Power"
(
Beneath Ceaseless Skies
) is a masterpiece of worldbuilding that brings together two very different characters with vastly different histories, and tracks the consequences of their meeting–effortlessly rich and romantic, laden with worldbuilding that both feels familiar and strange, this definitely stuck with me long after I'd read it.
Tade Thompon's
The Murders of Molly Southbourne
 takes a wild premise (every time Molly bleeds, her blood creates a double who turns murderous on her, and whom she then has to kill), amps it up to eleven, and turns it into a detailed, twisty thriller that follows Molly from childhood to adult, asking questions about free will, identity and the price of survival on the way. A gruesome and neat little horror book.
Martha Wells's
All Systems Red
is a fast paced SF romp with an unforgettable protagonist, the misanthropic Murderbot, whose only dream is to watch TV series—except that those pesky humans keep getting into trouble…
I don't always do poetry, but Brandon O'Brien's "Birth, Place" is amazing–beautifully evocative, with an ending that lingered in my mind. I want to frame entire pieces of it on my wall, as a reminder for hard times.
Best Fan Artist
And Likhain's
art
continues
to be amazing: she was up for a Hugo this year for Best Fan Artist. Below are two of the pieces she did as promo art for
The House of Binding Thorns
–she's still eligible this year in Best Fan Artist, if you're so minded to nominate her.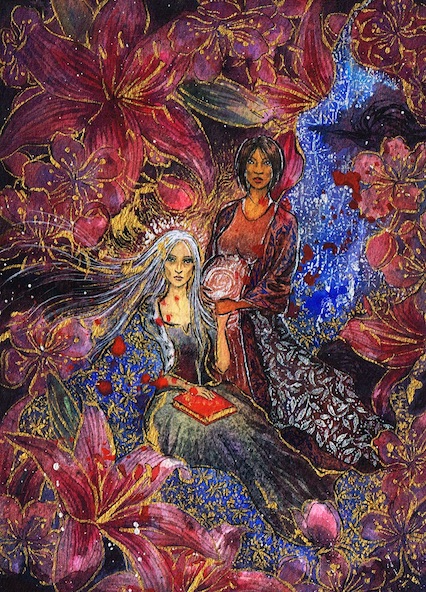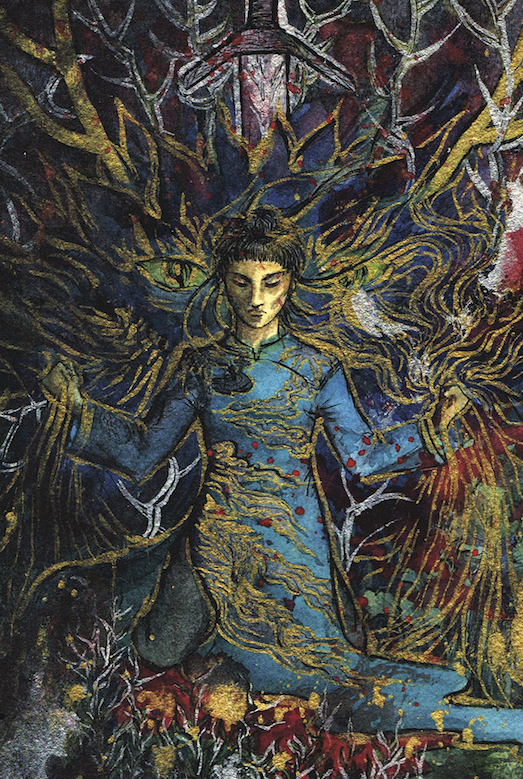 Novels
Ken Liu's Wall of Storms took everything I loved about The Grace of Kings and made it better. If I had one criticism of Grace of Kings, it was that the book was scarce on women until the very end. Wall of Storms has them in abundance, and shifts from a war to control a kingdom to my favourite trope: court intrigue and manoeuvring of different factions who all try to pretend it's for the good of the country. It deals with loss and legacy, and it also has the best engineering in fantasy sequence I've read in a long long time.
ETA: apparently this is a 2016 book! °_°
Stephanie Burgis's
Snowspelled
 is the perfect book to curl up with if you need a pick-me-up. It's fun and fluffy but also quite effortlessly deep. Set in an alternate England in a fragile peace with the neighbouring elves, the novella follows Cassandra, once a star magician but now a broken woman who lost her powers. Expecting nothing but obscurity, Cassandra finds herself stuck in a mansion in the middle of the snowstorm—with a rogue magician to track, a powerful and haughty elf to placate, and worst of all, a persistent ex-fiancé who refuses to take no for an answer. It's sweet and beautiful and just left me ready for the sequel. (ETA: moved this from the novella category because length!)
Yoon Ha Lee's
Raven Stratagem
 is also a sequel (to his great
Ninefox Gambit,
which I recommended last year to everyone who would listen to me). It expands the fascinating universe of Hexarchate by showing us characters from outside the assault section trying to take over a fortres: the hexarchs themselves (Mikodez ftw)), the civilians, the soldiers on space stations, and more factions beyond the ones we saw in
Ninefox Gambit
. And the ending left me hungering for more (book 3 is out next year!!).
Elizabeth Bear's
The Stone in the Skull
reminded of me of why I love big fat epic fantasies: it's got everything from creepy threats, lush worldbuilding and a great big cast of characters, but without the casual misogyny, gender essentialism and racism that throws me out of texts. The cast is diverse (yay toddlers in SFF!), and I felt like I'd barely read enough when the book ended.
Jeannette Ng's
Under the Pendulum Sun
 is a creepy Gothic fairytale that takes as a premise the sending of two Victorian missionaries to Fairyland. I hadn't thought the finer points of theology could be this gripping, but the claustrophobic meditation on the nature of faith and stories that follows is a treat. And I'll never forget the banquet at the midpoint of the book: Jeannette has a gift for the genuinely unsettling images and twists.
Foz Meadows's
A Tyranny of Queens
is superlative portal fantasy: an epic cast of characters, wonderfully drawn societies and a thoughtful, nuanced treatment of abuse and PTSD. Only drawback is you'll have to read the first book,
An Accident of Stars
, but trust me, it's totally worth it.
Best YA novel
Cindy Pon's 
Want
is a fast-paced look at a dystopian Taiwan where the gulf between haves and have-nots is counted in years of good health.
Kate Elliott's
Buried Heart
brought her Court of Fives trilogy to an awesome end, and tackled colonialism, revolutions, history and the way people have to make hard and impossible choices. I loved that Jess continued to have a relationship with her entire family, and all the different roles for characters from domestic to military.
Misc
Victor Fernando R Ocampo's The Infinite Library and Other Stories is a breathtaking short story collection of loosely linked stories that run the gamut from whimsical to dark, but always infused with a sharp perception of what makes people. It's a mite hard to find in the West as the publisher is based in Singapore but it's well worth a read if you can track it down.
Best Related Work
Also check out: JY Yang's Red Threads of Fortune and Black Threads of Heaven (novellas), Corey White's Killing Gravity (novella), Malka Older's Null States (novel), Karin Tidbeck's Amatka (novel), Fonda Lee's Jade City (novel).