Aliette de Bodard
Writer of Science Fiction and Fantasy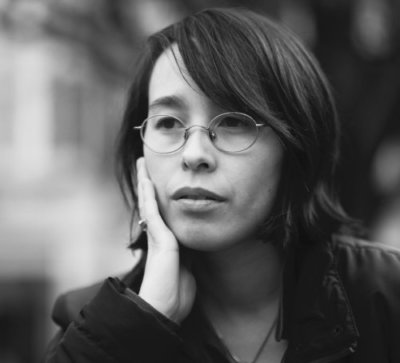 This is the home page of Aliette de Bodard, writer of fantasy and science fiction (and the very occasional horror piece). Aliette has won three Nebula Awards, a Locus Award, a European Science Fiction Society award, a British Fantasy Award and four BSFA (British Science Fiction Association) Awards.
She is the author of the Hugo-award nominated series The Universe of Xuya, Vietnamese-inspired space opera with sentient spaceships: a complete list of these stories and some additional background information can be found here. Short novels set in this universe include the upcoming Seven of Infinities (Subterranean Press, October 2020), and The Tea Master and the Detective.
She is the author of the Dominion of the Fallen series set in a devastated Gothic Paris, which comprises The House of Shattered Wings , The House of Binding Thorns, and The House of Sundering Flames
.
She lives in Paris, France.
Aliette is represented by John Berlyne of the Zeno Literary Agency: for any enquiry, please contact the agency.
Sign up for the newsletter here.
---
Original Picture Credits Portrait: Lou Abercrombie
---
Out Now: Seven of Infinities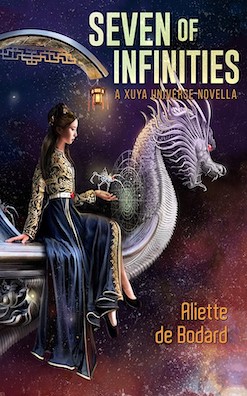 A sentient spaceship, master of disguise and storied thief...
An upright scholar with a dark secret...
A bloody murder that needs justice....
Our unlikely duo is investigating--and falling for each other at the same time. Sparks fly, but it's ok, because they totally have it under control! #famousLastWords
More information about Seven of Infinities here.
(Cover image: Maurizio Manzieri )
Out Now: Of Dragons, Feasts and Murders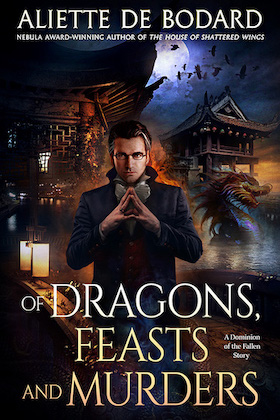 Of Dragons, Feasts and Murders is a standalone fantasy of manners and murders, an Asian court drama meets High Gothic, in which a murder/diplomacy pairing of a Fallen angel and his dragon husband must team up to solve a murder. Featuring kissing, sarcasm and stabbing, out July 7th from JABberwocky Literary Agency, Inc.
More information about Of Dragons, Feasts and Murders here.
(Cover: Ravven)