Dominion of the Fallen
A series of dark Gothic fantasies set in a turn-of-the-century Paris devastated by a magical war–featuring magicians, witches, alchemists, Fallen angels, and the odd Vietnamese ex-Immortal…
Book 1: The House of Shattered Wings
Winner of the British Science Fiction Association Award for Best Novel, Locus Award Finalist
A superb murder mystery, on an epic scale, set against the fall out – literally – of a war in Heaven.
Paris has survived the Great Houses War – just. Its streets are lined with haunted ruins, Notre-Dame is a burnt-out shell, and the Seine runs black with ashes and rubble. Yet life continues among the wreckage. The citizens continue to live, love, fight and survive in their war-torn city, and The Great Houses still vie for dominion over the once grand capital.
House Silverspires, previously the leader of those power games, lies in disarray. Its magic is ailing; its founder, Morningstar, has been missing for decades; and now something from the shadows stalks its people inside their very own walls.
Within the House, three very different people must come together: a naive but powerful Fallen, an alchemist with a self-destructive addiction, and a resentful young man wielding spells from the Far East. They may be Silverspires' salvation. They may be the architects of its last, irreversible fall…
Buy Now
Find out more!
Book 2: The House of Binding Thorns
The standalone, affecting sequel to The House of Shattered Wings
Winner of the European Science Fiction Society Achievement Award for Best Novel, Locus Award finalist
The multi-award winning author of The House of Shattered Wings continues her Dominion of the Fallen saga as Paris endures the aftermath of a devastating arcane war…
As the city rebuilds from the onslaught of sorcery that nearly destroyed it, the Great Houses of Paris, ruled by fallen angels, still contest one another for control over the capital.
House Silverspires was once the most powerful, but just as it sought to rise again, an ancient evil brought it low. Philippe, an immortal who escaped the carnage, has a singular goal—to resurrect someone he lost. But the cost of such magic may be more than he can bear.
In House Hawthorn, Madeleine the alchemist has had her addiction to angel essence savagely broken. Struggling to live on, she is forced on a perilous diplomatic mission to the underwater Dragon Kingdom—and finds herself in the midst of intrigues that have already caused one previous emissary to mysteriously disappear…
As the Houses seek a peace more devastating than war, those caught between new fears and old hatreds must find strength—or fall prey to a magic that seeks to bind all to its will.

Buy now
Find out more!
Book 3: The House of Sundering Flames
The powerful conclusion to the Dominion of the Fallen series
The multi-award-winning author of The House of Shattered Wings and The House of Binding Thorns concludes her Dominion of the Fallen saga, set in a Paris devastated by a magical war.
The great magical Houses of Paris – headed by Fallen angels and magicians – were, however temporarily, at peace with each other. Until House Harrier was levelled by a powerful explosion. Now that peace has become chaos, tearing apart old alliances and setting off a race in which each House hoards magic and resources to protect itself against another such blast.
Thuan, the Dragon head of the divided House Hawthorn, is still consolidating his power when war comes to his doorstep. Aurore – exiled from and almost beaten to death by House Harrier – sees her moment to seek power in order to protect her family, even if she must venture back to her destroyed former home to get it. And Emmanuelle finds herself alone in the middle of it all, driven to protect others, trying to piece together what has happened, and hoping – eventually – to make sense of it all.
None of them know what destroyed House Harrier, though . . . and when they do uncover that fiery, destructive magic then divided Houses, old enemies and estranged friends will all have to make a decision: stand together, or burn alone . . .
Buy Now
Find out more!
Book 3.5: Of Dragons, Feasts and Murders
A spin-off novel of courtly intrigue and meeting the family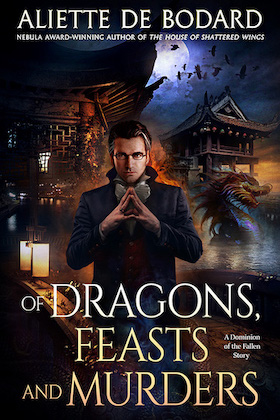 From the author of the critically acclaimed Dominion of the Fallen trilogy comes a tale of dragons, and Fallen angels — and also kissing, sarcasm and stabbing. 
Lunar New Year should be a time for familial reunions, ancestor worship, and consumption of an unhealthy amount of candied fruit.
But when dragon prince Thuan brings home his brooding and ruthless husband Asmodeus for the New Year, they find not interminable family gatherings, but a corpse outside their quarters. Asmodeus is thrilled by the murder investigation; Thuan, who gets dragged into the political plotting he'd sworn off when he left, is less enthusiastic.
It'll take all of Asmodeus's skill with knives, and all of Thuan's diplomacy, to navigate this one — as well as the troubled waters of their own relationship….
A sparkling standalone book set in a world of dark intrigue.
A Note on Chronology
Spinning off from the Dominion of the Fallen series, which features political intrigue in Gothic devastated Paris, this book stands alone, but chronologically follows The House of Sundering Flames. It's High Gothic meets C-drama in a Vietnamese inspired world– perfect for fans of The Untamed, KJ Charles,  and Roshani Chokshi's The Gilded Wolves. 


Buy now
Find out more!