Aliette de Bodard
Writer of Science Fiction and Fantasy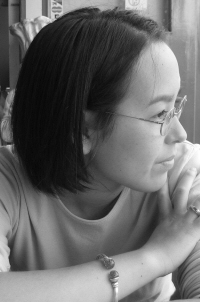 This is the home page of Aliette de Bodard, writer of fantasy and science fiction (and the very occasional horror piece). Aliette has won two Nebula Awards, a Locus Award, a BSFA Award, as well as Writers of the Future. She has also been a finalist for the Hugo, Sturgeon, and Tiptree  Awards.
Her new novel, The House of Shattered Wings, is forthcoming from Gollancz (UK/Commonwealth, August 20th 2015) and Roc (US, August 2015): Fallen angels, Vietnamese immortals and entirely too many dead bodies, in a Paris devastated by the Great Magicians' War…
Her Aztec mystery-fantasies, Servant of the Underworld, Harbinger of the Storm, and Master of the House of Darts, are published by Angry Robot, worldwide. Her short fiction has appeared in a number of venues, such as Interzone, Clarkesworld Magazine, Asimov's, and The Year's Best Science Fiction.
She lives in Paris, France, in a flat with more computers than she really needs, and uses her spare time to indulge in her love of mythology and history–as well as her love of cooking (the recipe page can be found here).
As a Franco-Vietnamese, Aliette has a strong interest in Ancient Vietnam and Ancient China, and will gladly use any excuse to shoehorn those into her short or long fiction. A more extensive biography is available here, and a list of her fiction can be found here. Here you will also find Aliette's schedule and her list of essays on science, culture, cultural appropriation and other genre-related stuff.
Aliette is represented by John Berlyne of the Zeno Literary Agency: for any enquiry, please contact the agency.
---
Original Picture Credits Portrait: Ines de Bodard
---